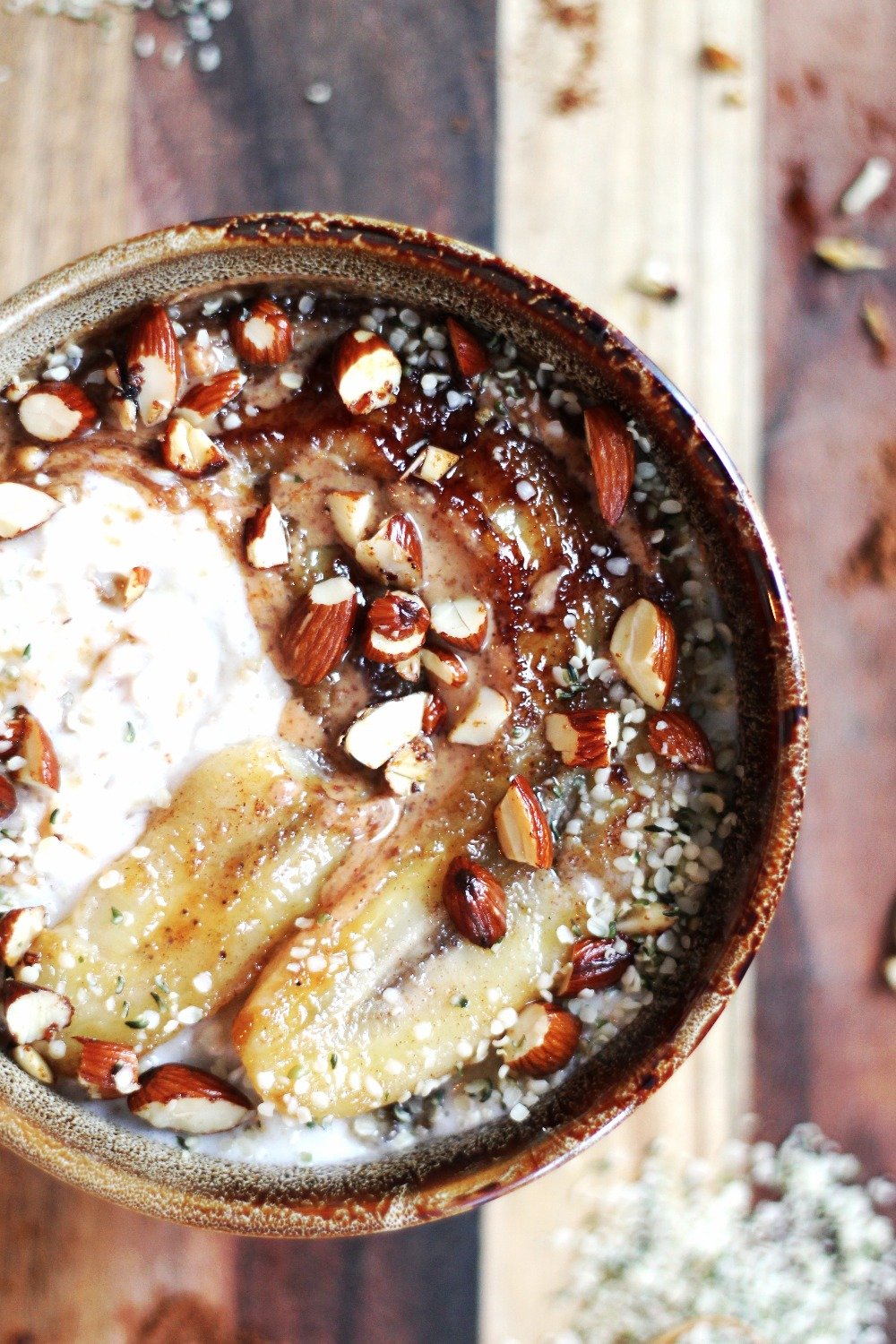 It's been a really good week for me! First off, it felt great to get back into the kitchen and cook up some plant-based meals again, after travelling for work. I'm sure you know the feeling…The desire to get back into routine and having healthier plant-based options to choose from? I always find this a struggle with travelling! But, not only was it a good week for getting back into routine, I was also featured for my Red Berry and Barley Porridge on the Food & Wine Instagram page! Wahoo! This was my very first mention on a big Instagram account and MY did it feel good!!
Actually, I was walking Penny when I got the notification on my phone. I stopped dead in my tracks, and then turned around and sprinted home so fast you would think I was training for a marathon! I bolted up the stairs and burst open the door, yelling "MITCH!!! OMG GUESS WHAT!?" …The look of terror on his face was not what I had expected. I seemed to have totally scared the bejeepers out of him; wondering whether I had been chased home by bears! But, once I mentioned the good news he was as elated as I was. (What a great hubby!). This generous mention by Food & Wine, also helped me hit 1K followers on Instagram and it was a glorious feeling! yayayay! So I've been spending the rest of the week on a bit of a cloud, skipping around the house with a huge grin and positive mood.
And since my Red Berry & Barley Porridge was a popular favourite, I wanted to share another one of my fav breakfast bowls this winter. Say hello to my Fried Banana & Almond Maple Porridge. This porridge uses traditional steel cut oats cooked in creamy almond milk. But there's a modern twist on this traditional dish: fried bananas.
…HOLY BANANAS! If you haven't tried this sweet fried fruit you must do so immediately!!
I have always loved bananas. To the point where I need one everyday, or I'm a terror to be around. (Heaven forbid you take the last banana in the fruit basket). They don't call me Hannah Banana for nothing! And I really didn't think bananas could get any better until I tried them fried. Fried bananas are a true gift. They are perfectly sweet with a gooey caramelized texture that's completely euphoric. Ask me what I'd request on my death bed? Fried bananas! Actually, I only recently discovered this wonderful food having seen it appear on a few snap stories from my Instagram idols like Anet Velsberg and So Beautifully Real. And when you pair fried bananas with oats? It's intoxicating! I must also give some credit to the almonds in this recipe of course – who play a vital supporting role. Not only is the porridge cooked in creamy almond milk, but the bowl is drizzled with gooey almond butter and then sprinkled with the toasted nut. The combination of the almond drizzle and crunch, along side the fried banana and oaty base is pure zen. Drizzle it with maple syrup and you may as well call it quits for the day. Because nothing will beat this dish until you wake up tomorrow and serve it again! It's a completely tranquil dish that requires only eating, sleeping and eating again. I wouldn't be surprised if bears hibernated to these bowls. In fact, this must have been what Goldilocks found in Baby Bear's bowl that caused her to eat the entire lot and then pass out in his bed! I mean, to fall asleep in a house full of bears? She'd totally gone fried bananas!
So go bananas for this beautiful bowl of Fried Banana and Almond Maple Porridge. I'm sure it will be your new favourite dish this winter. Because, my friends, I promise you that "this porridge is juuust right." 🙂
This porridge recipe is comfort in a bowl. It's warm flavours consist of cinnamon, sweet maple syrup and gooey almond butter. What really takes it to the next level are the fried bananas. They add a gorgeous caramelized flavour to the dish that is so decadent.
1/2

cup

steel cut oats

1 1/2

cups

almond milk, plus more if desired

pinch

salt

1

tbsp

coconut oil

1

tsp

coconut sugar

pinch

cinnamon

2

small bananas

1/4

cup

almonds, toasted and chopped

2

tbsp

almond butter

maple syrup to taste

2

tsp

hemp hearts
1/2

cup

steel cut oats

1 1/2

cups

almond milk, plus more if desired

pinch

salt

1

tbsp

coconut oil

1

tsp

coconut sugar

pinch

cinnamon

2

small bananas

1/4

cup

almonds, toasted and chopped

2

tbsp

almond butter

maple syrup to taste

2

tsp

hemp hearts
In a sauce pan add your steel cut oats. Bring to medium heat and toast the oats stirring often until it they begin to provide a nutty aroma (3-5 minutes). Then, pour in your almond milk, add a pinch of salt and stir.

Bring steel cut oats and almond milk to a boil, then reduce heat and let simmer. Cook oats stirring occasionally for 30 minutes, or until cooked as desired. Optional to add more almond milk if needed.

While you're waiting for the oats to cook, add coconut oil to a skillet and bring to med-high heat. Sprinkle pan with coconut sugar and cinnamon. Cut your bananas in half down the centre and place cut side down on the skillet. Fry each side for 1 minute, or until golden in colour.

Remove bananas from skillet and add chopped almonds. Toast almond in skillet stirring occasionally until browned (approx. 2-3 minutes).

Pour cooked oats into two bowls and top with fried bananas. Drizzle with almond butter and maple syrup to taste. Sprinkle with toasted almonds and hemp hearts.
Nutritional information is a rough estimate.
Calories:

565kcal

Fat:

33g

Saturated Fat

9g

Sodium

77mg
Carbohydrates:

60g

Fiber:

10g

Sugar:

17g

Protein:

15g